Archive for July, 2009
Boost Promotional Products enjoys chatting with business owners within many targeted industries and online.  We have been amazed at the amount of small businesses that do not use Promotional Products.
Below are just some of their reasons:
Too expensive for advertising

No idea what do with a Promotional Item or how to market it

No industry experience or new product fear

Don't need it
What I would like to do in this post is provide 5 core reasons why your business needs to implement a marketing strategy like Promotional Products.
Visibility

. More and more people are now using the Promotional Products to advertise their products and services. What they are looking for is reviews, articles and discussion related to the product. By giving your clients a free Promotional Products, your brand or business name will be remembered every time the product is used.

 

If this is researched well enough, before the product launch, the right product for the right situation can leave a very important message in the mind or your client or potential customer.

Reach

. A Promotional Product gives you far more reach for your business both nationally and internationally. If your business is not just for servicing the local community having a Promo Product advertise your name, telephone number, e mail address or slogan, is by far the most effective way to get your name out there.

Customer Service

. A Promotional Product advertises for you 24×7 which can help with customer support queries and general enquiries. This can reduce your customer service effort especially when your staff can point customers to the product you have chosen for advertising thus freeing up your time.

Professionalism

. I have talked with people who, after finding out a business does not implement a well thought out Promotional Products campaign, they actually decided to go with the competition. A businesses ability to advertise in today's market efficiently is expected by most people just as much as a business card.

KISS

(Keep It Simple Stupid). With a well thought out Promotional Products plan you do not have to cost $1000's of dollars to achieve your desired result. A Promotional Item can be as simple as a Shower Timer, to save water or Enviro PET Bag to reduce your carbon footprint which can list what your business is about and contact details. You can always grow from there.
Contact one of our customer service operators today for all of your Promotional Products requirements.
Comments are off for this post
Here at Boost we believe in using conference bags as your promotional products. Your customers will regard the printed conference bags as the ideal gifts for them. They are useful to different types of people hailing from different professional backgrounds. The bags are suitable for low-grade employees as well as high-grade professionals or executives. They are the perfect corporate gifts that find a lot of value among all types of customers. Being a universal gift item, the bags hold an important status as a promotional gift. They find relevance always in all types of businesses.
We have a large variety of promotional conference bags on offer and this is what makes them one of the most anticipated promotional gifts. Our personal recommendation is to pick a colourful conference bag that match the brand identity colour in all respects. They offer you a lot of choice in their designs as well. They range from the simple strapped conference bags to the stylish and expensive conference bags with laptop carrier facilities. They are also featured with additional accessory pockets for storing the essential documents, mobile phone cases, business card holders, stationery items and magazines.  Contact one of our staff today for all of your personalised conference bags.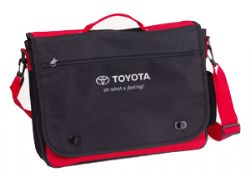 Comments are off for this post
Bamboo is wonderfully friendly product for the planet.  Promotional Products that have Bamboo incorporated into the manufacturing process are considered to be one of the most economically sustainable resources on the planet. Bamboo can grow up to a rate of 1 m per day under favourable conditions and reach maturity within 3 to 4 short years. It is not require replanting after harvesting because of its intensive rooting network and will contentedly sprout new shoots that grow at astonishing rates.
Given these amazing properties, our new range of Environmentally Friendly Promotional Products including Promo Clothing, Corporate Gifts and other pieces of merchandise all contain this wonderful product with an amazing history. When bamboo it is used in fibres to create fabrics for clothing the end result is an antibacterial and antifungal material that is breathable, thermal and most importantly environmentally friendly.  Bamboo clothing really has taken off within the last few years with is popularity becoming widely known in the fashion industry.
 In today's market place we offer a wide range of Promotional Products using bamboo as a base material.  Contact one of our friendly staff for all of your Promotional Product requirements.
Comments are off for this post