Archive for November, 2010
Top Reasons Why Australian Business And Companies Utilise Promotional Products
Promotional product gifts can keep your companies name in your potential buyers eyes, long after the gift was given to them. Those on the receiving end of your unique corporate gift will almost feel compelled to support your business for years. If you select the perfect promotional item, you could in fact stay in front of the buyer and provide a small service at the same time. For example, many companies have their brand and slogan printed on those sporting event seat cushions. Now these items are used week after week, year after year. In front of the person you gave it to, and all the people they surround themselves with at these events.
Businesses are realizing the importance of promotional products to achieve customer loyalty. The latest trend with giveaway tee shirts shows how giving away free merchandise can turn a potential buyer into a walking billboard for your business. These tees last years, and if thousands of folks are walking around wearing the shirts imagine how many eyes see those shirts over the course of a year. You can also integrate new methods of advertising your brand, with some of the traditional ones. The ideal giveaway can sometimes sit on a potential customers desk or refrigerator for months, if not years to come. They continue to be one of the top forms of advertising in that industry.
Top reasons why you should use promotional products in your marketing campaigns:
Promotional products will help you acquire new customers. It's a well known fact that customers are open minded to new businesses when they visit exhibitions and trade shows. If you can impress them and give them a free gift with your essential information on it: chances are your details will be kept for retrieval when they need a service similar to yours.Promotional products show that you can be personable and have a fun side. Business should not all be about deals, contracts and money. A little bit of lighthearted fun will win over the clients any day of the week.
Promotional products will help keep your existing customers happy too. A gentle reminder that you are still alive never hurt anyone. Promotional gifts ensure you are always at the forefront of your customers minds. If your potential customers are wearing your tee shirt, or keeping their chips fresh with your bag clip, they most likely are unaware of the subliminal message your brand is portraying. But rest assured, when they need your service, the gift will be an immediate reminder, for them to call you first.
A commercial or radio ad sometimes jams too much info in a short period of time, usually forgotten by the prospects. The promotional product will carry a clear, concise miniature billboard of your slogan that is literally in their face every day.
Comments are off for this post
Preserving the Environment through Calico Bags
Plastic has become one of the most increasing sources of environmental problem these days.  Plastics are commonly used because they are relatively easy and inexpensive to make.  However, these same qualities have made it a huge hazard to the environment.  It can easily be disposed and if not done properly, it creates unsightly litter and end up in waterways and drains, thereby causing floods and endangering the marine life.  Good thing though, many businesses are becoming more environmentally conscious and responsible and have resulted to other alternatives to prevent plastic pollution.  Various companies and retailers have incorporated reusable bags where merchandise and purchases are placed.  Others have utilized these bags for promotional campaigns and corporate giveaways.  Calico Bags are the most popular choice of this kind because of the following outstanding features:
§  Low-Cost and Inexpensive.  Calico is made of plain-woven textile originally from India.  They are relatively inexpensive to produce, therefore reducing your operational costs.
§  Durable and Stronger.  Compared to plastic or paper bags, calico bags can be loaded with items without fear of being destroyed while carrying it around.  This is one reason why many groceries and food marts have replaced the traditional plastic bags because calico bags are more than capable of handling the purchases made by their customers.
§  Washable and Repairable.  Unlike plastic bags which can easily be thrown and discarded after using, calico bags can be washed as many times as you want so you can use it again for your next shopping trip or other purposes.  Even simple wear and tear damages can easily be managed just by sewing the edges, which you definitely cannot do if it is made from plastic.
§  Functional and Stylish.  Calico bags are available in different colors and stylish designs which make it perfect to use wherever you want to go!  You can use it to place your files or paper works, books, knick knacks or use it as a laundry bag.
§  Branding and Promotional Alternatives.  The use of promotional products has played a major role in brand awareness.  Calico bags are ideal promotional tools because it provides your company the opportunity to be seen by hundreds of people in a short period of time.  The large printing area of these bags allows your company logo or brand name to stand out and be noticed.
Using Calico Bags can indeed minimize the build up of waste and lessen the damages to the environment.  Visit Boost Promotional Products Australia today and replace your disposable one-time bags with our wide selection of high quality Calico and Tote Bags.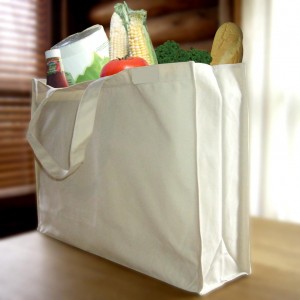 Comments are off for this post