Archive for October, 2013
Calico Ham Bags
The perfect Christmas Ham or Calico Bag is one that looks after your purchased ham, long after it has been brought.  All of our bags are made from top quality durable Calico cotton ensuring you the owner longevity of the bag even if it is wet or soaked in your own brine.   Now let's get to the nitty gritty.  There are many Calico Ham Bags on the market that fall in to the category of VERY thin or nearly non-existent.   These bags simply don't last the distance like our bags on offer and it goes to say "Always check to see what gsm (this refers to the weight of the bag but will give you a guide line for the thickness of the bag too.  In this case more the Merrier) the manufacture is offering" anything under 150 gsm is basically to light to be a genuine ham bag.  Simply wetting this material can make the bags more prone to tearing, which in any case you don't want.
Also choose a calico bag that has a drawstring attached.  In effect this keeps in any loose pieces of ham inside the bag and makes it easier to get in and out of the fridge on a daily basis.  Looking to brighten up your bags?  We can assist you with decoration of your ham bags with your logo or design.  Need plain or undecorated bags?  No problems just let us know.
How To Shore Leg (Bone-In) Ham
For the very best results place your approved or cooked ham into one of our recommended drawstring calico bags with a mix of 1 litre of water to 3 teaspoons of white vinegar.  Simply place the empty bag into the brine or mix, remove the excess and then you have a damp bag for your ham.  This process of brining is recommended every 2-3 days.  Also don't pack your ham too tight in the bag, this will avoid sweating.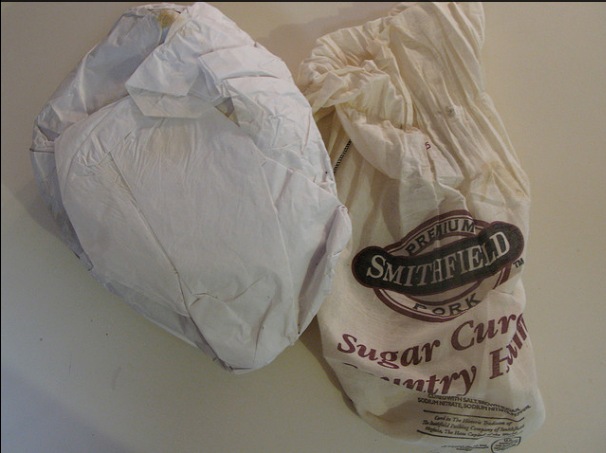 Comments are off for this post