Archive for the 'Lanyards' Category
Promotional Lanyards are all about identification and who you are. Groups tend to use these types of promotional items for displaying a wide range of information such as your name, company, age, date of birth and\or access details to a particular area. You can basically display as much information or as little as you would like depending on your requirements. Lanyards also portray a corporate or business image for your clients or delegates, which can really make your business stand out ontop.
In Australia they are also known as neck chains. With several years experience at the conference and promotional industry rest assured you are certainly in good hands dealing with us. We provide several different printing options and multiple different styles of lanyards for your conference or event. Plain one colour lanyards are the best if you're on a budget and are looking to save money. The full-colour dye sublimation lanyards of the best effect for a detailed finish that simply looks stunning. Also the cost between a one colour print lanyard full-colour printed lanyard are hardly noticeable if you are looking to order larger quantities.
This year's 2010 range also includes a full range of eco-lanyards which are made from reusable materials such as bamboo and PET fibres. These types of items can be the type of product that only has a short lifespan, therefore using these types of materials should be noted. Contact one of our customer service operators today for all your requirements.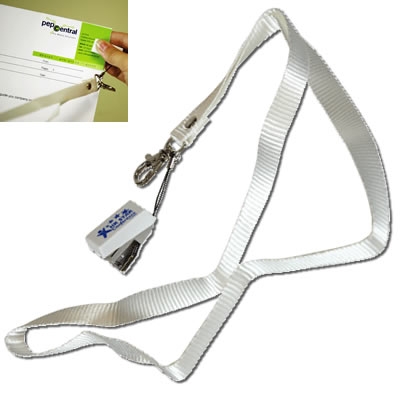 Comments are off for this post
What is the purpose of a Layard? In today's world we see lanyards every day and they are used in almost every profession that people can think of. There a lot of people who don't know what a lanyard is or even look like, however they may have used one. So typically people just don't know what they are called or how they can be used in the promotional world.
Some of the other terms people use for lanyard are a neck strap, security strap, ID strap or ID cord.
A conference lanyard is a piece of material worn around the neck for hanging small objects such as name inserts, card holders etc. So what are the benefits of using promotional lanyards? We like to think of it as a hands fee device to carry a variety of information.  There are literally thousands of uses for lanyards in schools, businesses and government agencies as well as other organisations for holding name badges but the primary use remain for identification and promotion.
On a larger scale the main advantages are that they are often used in conferences, trade shows or any other events. If they are used for promotional reasons they will probably have attached some kind of accessories like crocodile clips, Dog clips and mobile phone holders.
Lanyards are fully customizable, meaning you can print your company's name or catch phrase making an exclusive design to ensure you will have a great impact on your audience. Because they are used in combination with so different, many and common objects you can be sure that your message will be seen by many people.
Lanyards come in vast range of colors, sizes, materials and decoration options.  I think that the most basic lanyard is a simple boot lace lanyard. Then, there are the cotton or nylon lanyards which can be found in different colors. The most popular lanyards are the custom printed ones. Nice designs with beautiful and well chosen colors can be very eye catching.
In conclusion, lanyards, even if many don't know them by name are very popular and used. They are also a great way to advertise products companies or messages. If you are looking for a great way to promote your business try incorporating lanyards into your promotional campaign.

Comments are off for this post