Archive for the 'Promotional Calico Bags' Category
PROMOTIONAL CALICO BAGS – Promoting Your Business In An Environmental and Eco-Friendly Way
At this age and time, there is an increasing awareness and consciousness among us on the harmful effects in the environment when using plastic bags in Australia.  Open bags with carrying handles are used in large numbers worldwide as a convenient way to carry items and stuff.  And if these are not properly disposed, it can create unsightly litter and end up caught in waterways and drains which could potentially harm and endanger our unique wildlife.
However, Promotional Calico Bags is an environmental responsible alternative which provides businesses the ability to replace plastic bags.  It is made of plain-woven cotton textile originally from India which is very inexpensive.  Also to note, Promotional Calico Bags are washable, reusable and stronger compared to plastic bags.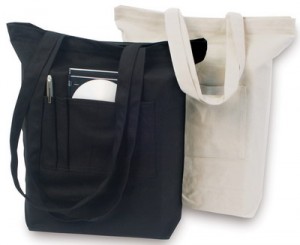 And because of its durability, function and low-cost, it has become one of our most effective products to market your company and spread your advertisement as far and wide as possible.  If you were to distribute a few hundred calico bags custom imprinted with your company logo or advertising message in the middle of an event, these bags will have spread your logo and be seen by different people in a short period of time.  No other giveaway can deliver immediate and rapid results at such an affordable price!  Promotional Calico Bags provide retailers and merchandisers the ability to reduce their operating costs while achieving maximum advertising benefits.
For more information about promotional calico bags or other fresh promotional product ideas for your business and corporate gifting needs, visit Brisbane's Promotional Products store today.
Comments are off for this post
Looking for the perfect event or conference bag?  Need quality giveaway bags at affordable prices?  Look no further than the range of quality promotional calico bags found at Australia's most trusted Promotional Products store, Boost Promotional Products.  We offer the greatest range of calico bags found in Australia, at the best possible prices, GARANTEED!
A Calico bag is made from a plain weave fabric and has excellent hard wearing properties and is very strong.  This fabric that is used in producing the bags is made up of a cris's-cross pattern, giving these bags a reputation for some of the strongest low cost bags in the industry.  This type of bag originated in India and is also one of main suppliers today.  We source only fair trade calico and all bags are made to our specifications and then shipped direct to us here in Australia.  Because of these bags natural colors that are sold in, printing or decorating these types of bags really does make a great impression for your company name or logo.  Bright vibrant colours can be placed upon the white or light brown bags colors to give a vibrant logo for all to see.
Trust the leader in the Promotional Calico Bags Industry for your next promotional campaign.  Contact us today.

Comments are off for this post